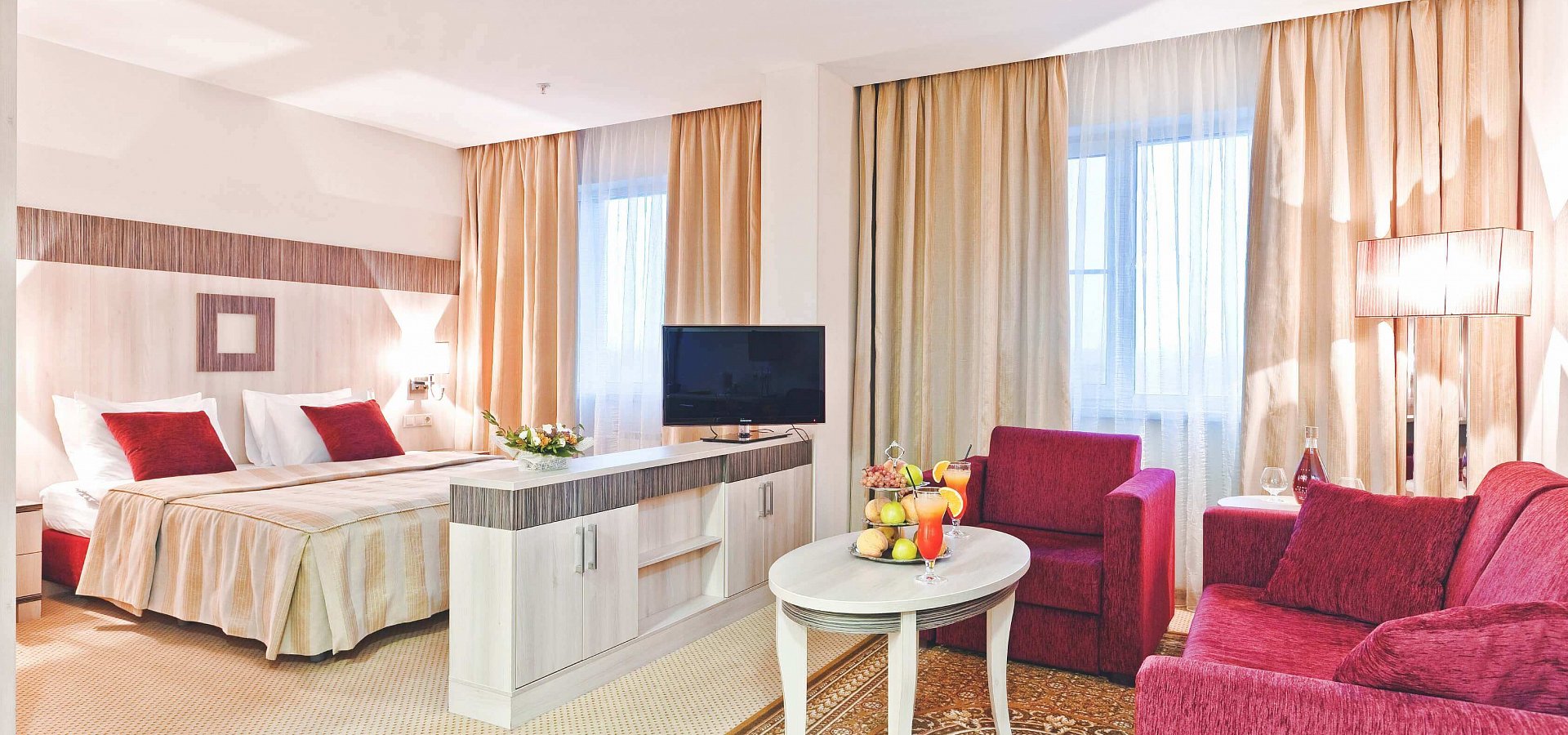 Classic Studio Suite 40 m2 with a spacious bathroom.
Room ideal for a romantic rendezvous, a colorful photo shoots and just a comfortable stay.
Included in the price:
Accommodation in chosen room category
The Breakfast buffet
Wi-Fi (unlimited)
Parking
Bottled water in the room
Daily maid service
The tea
Set of bathroom shower
In the room:
Air conditioning
Double bed
Mattress
Sofa
Chair
Coffee table
Reading lights
Safety Deposit box
TV
Phone
Hairdryer
Satellite TV
Internet
Refrigerator
Luggage stand
Kettle
Tea set
Hanger
Mirror
Desk
Chairs
Wardrobe
Bathroom equipment:
Bath
Hygiene products
cosmetic sredstva
Sink
Slippers
Bathrobe
The toilet
Other:
The guest book, menus, room service
Carpeted
Heating

Alfia and German, Russia
On July 29, we spent the banquet of our wedding in the Vitello restaurant at the East Gate Hotel in Balashikha. The choice of the restaurant was approached very carefully and seriously, based on the quality of the food, the friendliness of the staff, the cozy atmosphere, the reasonable prices. We went and looked at different options, went in, dined, dined. Vitello also went to lunch and read the menu. They left well-fed and satisfied with the desire to return here again. The food was very tasty, quality, served in a beautiful design. I really liked the table setting: spotlessly washed and ironed napkins, spotlessly clean and beautiful cutlery and dishes, a pretty cozy interior. We were served by a very friendly waitress Gulnara. After some time, they came here to dine again and finally decided that we would hold the wedding here. We got in touch with the director of the restaurant, Khuzhokova Victoria. Victoria was very attentive to all our wishes, to all the smallest details, loyal, very friendly, helped with her advice and professional recommendations, quickly answered our many questions. It is a great rarity and great value for the employee to approach his work and people with such a soul. I would very much like that there were many people like Victoria. Separately, we also want to mention the manager Igor, who also helped to solve our organizational issues quickly and clearly. The restaurant as a bonus gave us a loaf and a honeymoon room, decorated with candles and heart pillows. Room with early check-in and late check-out, with breakfast. It was very nice :-) You can bring your own alcohol to the banquet, there is a cork fee of 300 rubles for each open bottle. You can also bring your own berries and caviar. We bought caviar from the supplier of the Vitello restaurant and did not regret it, it was really of high quality, the guests noted that the caviar was amazing. Victoria also provided contacts on the design of the hall with flowers and balloons; everything was very beautifully decorated for our arrival. Separately, I would like to mention the holiday cake, which was also prepared by our order by the pastry chef of the Vitello restaurant. The cake was so beautiful and delicious that it exceeded all our expectations in appearance and taste, each level was made using different creams, it was beautifully decorated. Our guests ate the whole cake :-) More additives were requested :-) Thank you so much for a sincere holiday! Further success, prosperity, good health and happiness to everyone who works in the Vitello restaurant! Many - many guests to you, who will, like us, leave many lines with positive reviews!
Azamat, Russia
«Great hotel, convenient location ... we just needed hockey and a hotel a stone's throw from the arena. Great bed, wonderful breakfast.»