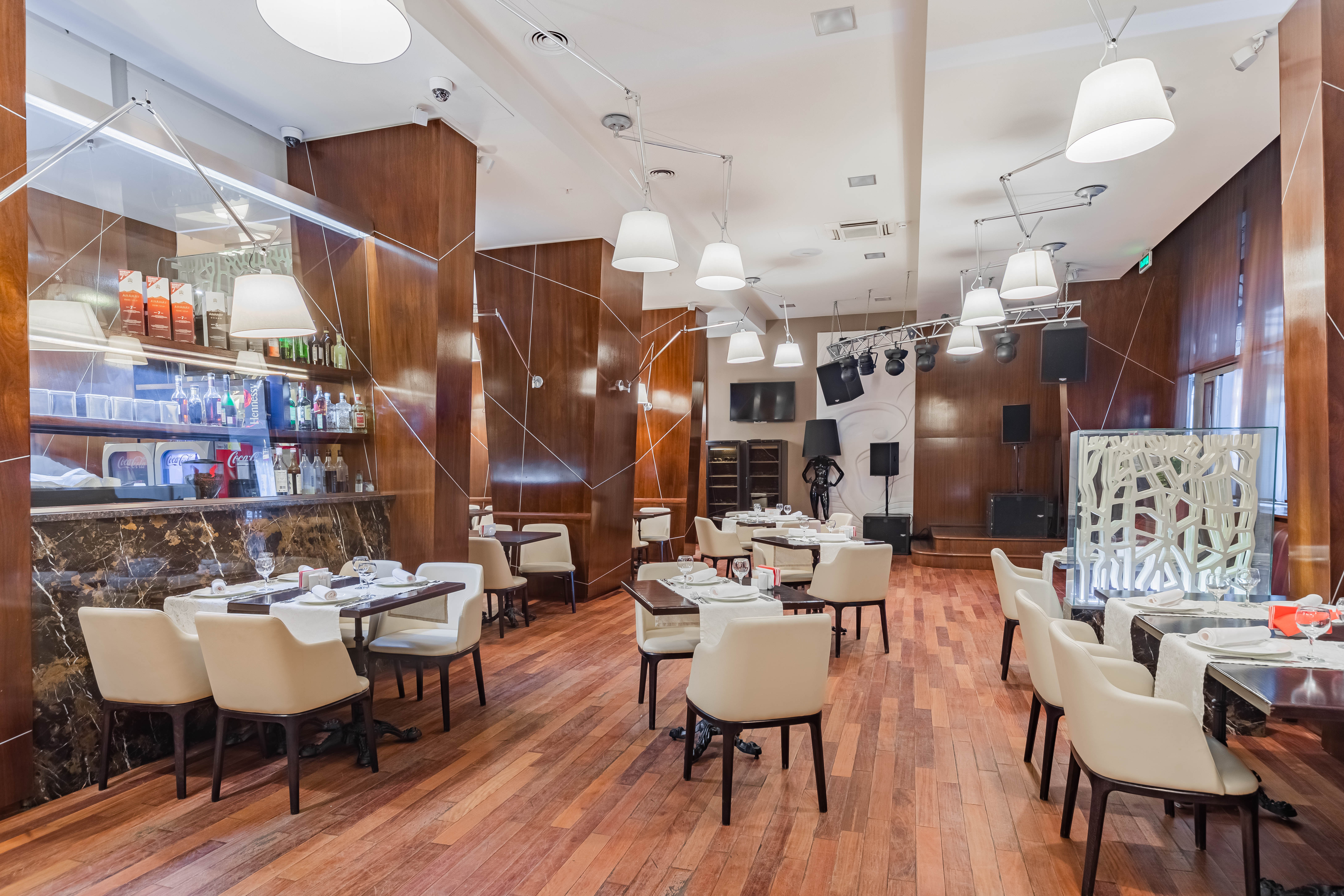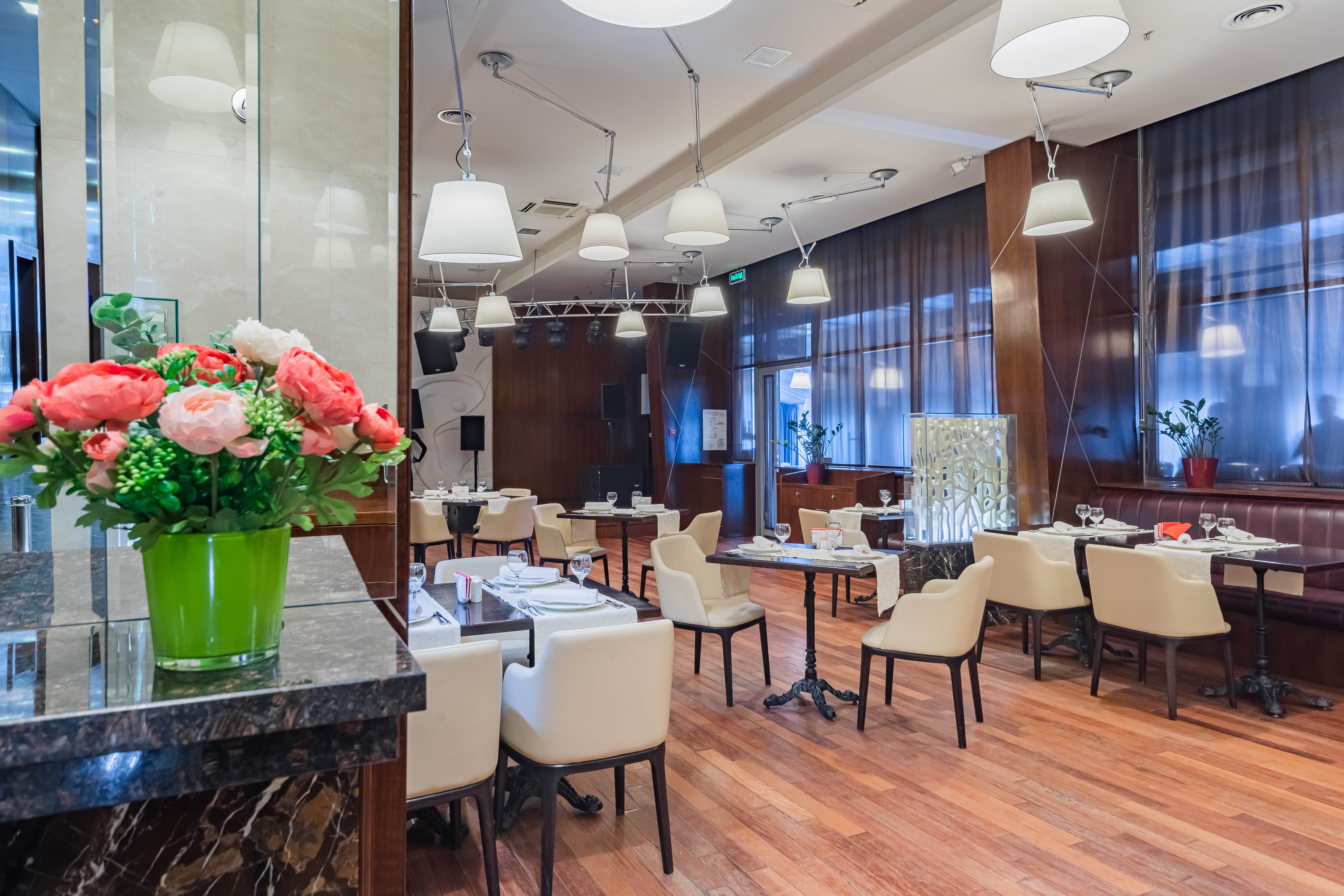 The Vitello restaurant complex is not only the absolute pride of the hotel, but also, perhaps, the most famous gastronomic place in Balashikha. We offer meals in any format: from a delicious à la carte order to the development of individual banquet or sports nutrition programs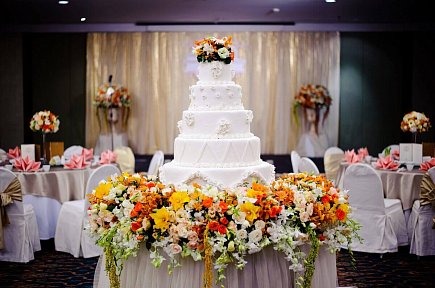 Upon ordering a wedding banquet, the hotel room is for free

Upon ordering a wedding banquet, the hotel room is for free
Vitello gourmet cuisine restaurant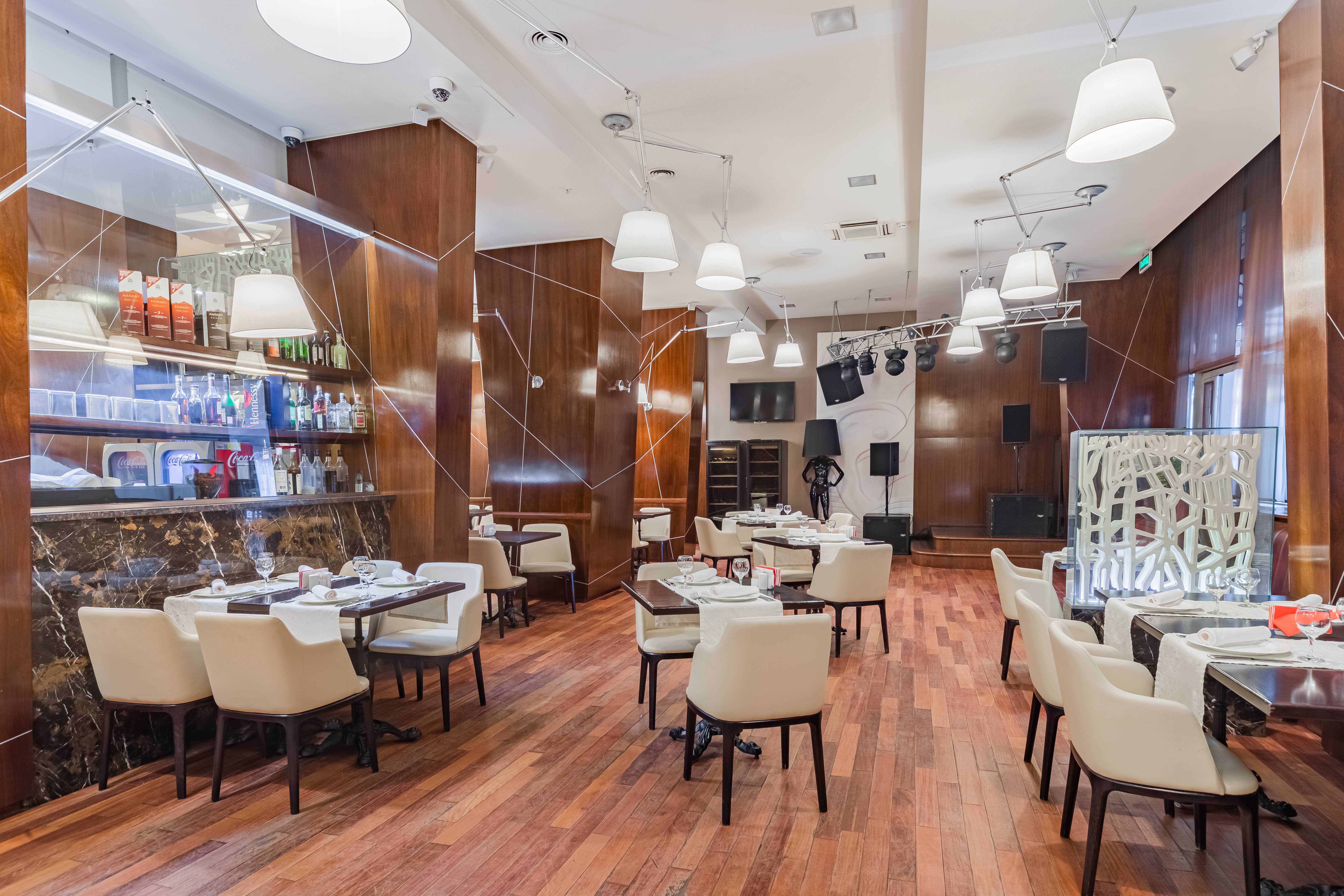 Vitello gourmet cuisine restaurant
What is Vitello? It is a restaurant, where aroma of fresh bakery and coffee fuse together in the morning.
While in the evening, when real gourmets gather and freshly chilled marbled meat is baked in Josper, the aromas of juicy beef steaks whet the appetite even of passing guests.
Yes, we have special respect and honor for the preparation of beef dishes. After all, "Vitello" translated from Italian as the best young veal meat. The meat prepared here is nothing like anywhere else in the city. Indeed, every cook participating in the process of preparing marble steaks undergoes a long training, including with the eminent gurus.
Guests who prefer vegetarian cuisine will also find something to their taste— our A la Carte menu offers a wide selection of salads and hot dishes.
Every day from 11 a.m. to 12 p.m. our doors are open for small and large companies of connoisseurs with taste as exquisite as that of a perfumer masterfully defining perfume compositions! We are waiting for those who carefully and meticulously choose the guaranteed quality of products and the best service!
In the center of Balashikha
Dishes — grill from Josper
Buffet breakfasts every day
In the center of Balashikha
Dishes — grill from Josper
Buffet breakfasts every day
Festivities
The banquet complex of the East Gate Hotel is ideal for any kind of events and its largest hall can seat up to 120 people at a time. We are ready to offer halls with different capacity limits, various design styles and ideal for any special event: banquets, weddings, parties..
The basic offer for celebrations includes 5 menu options. However, each of the options may be supplemented by any other dishes and drinks. Special conditions apply to delicacies and rare snacks.
We know at East Gate Hotel that every wedding is not only a pleasant, but also a troublesome event. One wants to have the best celebration ever and is afraid to forget even a tiniest detail. We always try to organize everything so that the wedding day is filled with fun and a lot of positive emotions! Every wedding organizer, and we are no exception, dreams of holding such a wedding celebration, so that it will be remembered for a lifetime for both guests and newlyweds.

The comfort of your favorite place is an incomparable pleasure. That is why we respect the choice of the customer and we offer the best menu for a significant event on his territory. Our client can choose a dish for coffee breaks, presentations, receptions, banquets, gala dinners for any celebration with any number of persons.
Restaurant News
14 November 2019
New porch
Construction in full swing. Friends, the construction of our new porch is in full swing. And hopefully very soon will begin the final stage of finishing works. Really looking forward to this event, because the new porch will be all season. And, therefore, our guests can enjoy the atmosphere all year round.
1 November 2019
New year's banquets
Friends are invited to our Christmas Banquet. Soon will come the long-awaited New Year. We have prepared all the delicious and interesting. Choose a convenient date and call for booking +7(495) 926-04-56.

About the restaurant, Russia
Cozy, tasty, but the prices, let's say, are Moscow and even more so. I could not deny myself the pleasure of ordering Tom Yam, but 960 rubles for the soup, this is somewhat too much. But we must pay tribute - marine bastards were in sufficient numbers, so the question of price and quality always remains relevant - a matter of choice!
About the restaurant, Russia
Great food and a wide selection of dishes for everyone, without meat as well. Clean, nice and pleasant atmosphere.